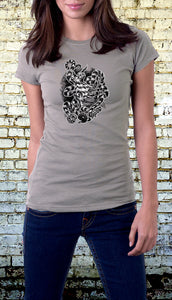 This black and white cephalopod is known as a Mimic Octopus, the most talented showman in the cephalopod family. What makes it so special is a lack of ink, one of the main defense tactics of octopuses. To account for this, they have developed the ability to copy the shape and movements of many different and more deadly sea creatures. 
I drew this design as participation in the world wide phenomenon as Inktober. 
This drawing is printed on a vintage feel shirt. It's super soft and already broken in, so there's no waiting for that comfortable feeling. This premium shirt will last you a long time. 
These shirts can run small, so please order a size larger then you normally would.