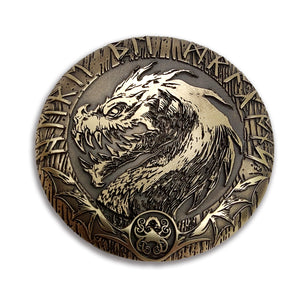 *IMPORTANT!! This is a limited pre-order sale, please allow 2-3 weeks from time of purchase to allow for the creation and shipping of your coin. All coins come with stickers and a certificate of authenticity*
Here Be Dragons. A phrase I have always liked, it carries a sense of excitement and wonder. Evoking images of explorers of old, sailing into the unknown. This unique worry coin is engraved with three different layers, for a very dimensional look and feel. 
This worry coin, is concaved in the center, perfect for keeping your hands busy. With no moving parts, it's ideal when silence is called for. If a decision needs to be made, I purposely designed this with the dragon's head on one side to make heads/tails more exciting. If you want another kind of heads/tails experience, I also offer this in a flat coin.
Find your uncharted adventure.