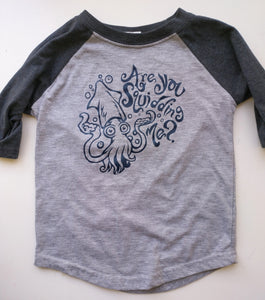 I'm very proud of this design, my three year old is in love with cephalopods and won't take this shirt off! The lettering and squid are drawn by me for my son. 
We bond over a shared wonder of the weird and special oddities in the animal world. 
About the shirt: a very comfortable cotton shirt that is soft yet durable. The design is made from heat transfer vinyl and is also able to hold up to 50+ washes. Believe me, his shirt has been through the wringer!
I make each shirt myself! Email me at tylerwolfmail@gmail.com when you place your order if your child would like the squid in a different color, I have a spectrum of colors available, even glitter!