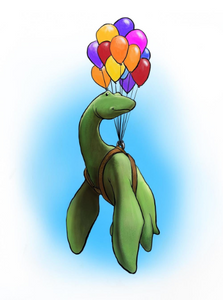 "High in the Sky!" is my line of prints for dinosaur loving kids of all ages. Someone has sent dinosaurs sailing through the air, happily floating on the currants suspended by balloons. These illustrations are full of charm and whimsy. They'll look great adorning any nursery, child's room, or dino lover of any age.

Each print in the series will be a different prehistoric creature, from the adorable Plesiosaur to the shy triceratops. If you don't see your favorite dinosaur, I'll be adding more to the series, so follow my shop for updates on new dinosaurs!

Let me tell you a little about these prints. They are printed on Epson Ultra Premium Matte paper with giclee ink. The colors are rated to last 70+ years (if you don't keep it in the rain under direct sunlight).

A little about myself. I took my degree out in Illustration because I've known since I was a little kid that I want to draw and paint as a career. I do freelance work and show my work in galleries and local venues. Being able to create my own t-shirts is a new development in my art career. It's an exciting new medium to show case my love of art. I also print all my own artwork on my large format Epson printer.

Each design is my own creation and is handmade by me and my awesome wife. And ship as fast as possible!