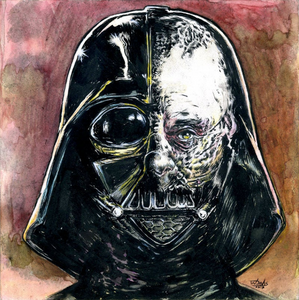 An original work of art. Created with watercolor and ink, a small work, 6"x6".

This painting depicts Darth Vader with half of his mask removed. Exposing the face under the mask, what do you see? Masks have been used as emblems of power in most cultures. So what can we learn about a figure as powerful as Darth Vader when he is exposed?

It was created on a piece of Ampersand Gessobord, a product made in America. Its archival and acid free, which should help the colors remain vibrant for a very long time. I also apply a coating of UV protective varnish to further protect the painting.